Bible Reading Plans: Should You Read the Bible in One Year?
Reading the whole Bible in a year is a challenging but attainable goal, though it does have one major drawback. In this post, I'll share my experience with Bible-in-a-year reading challenges and why I'm not doing it again this year. I've also got six different printable Bible reading plans for you, whether you want to get through four books this year or all sixty-six. 
Reading through the Bible in One Year
Last New Year's Eve, my husband issued a challenge to our two oldest daughters and me: could we read at least one Bible chapter each day and finish the whole Bible in one year?
Being a mildly competitive family, we were all over this challenge. Within fifteen minutes, we had downloaded and printed several Bible reading plans from Pinterest and strategized our plans of attack. We had several different tracking sheets and we set up all kinds of reminders for ourselves so we wouldn't miss any days.
Benefits of Reading the Bible in One Year
It seems like there are endless resources floating around to help us read through the Bible in one year, and it's often offered as a helpful suggestion when we're looking to get closer to God, In January, especially, this advice abounds. But this is not an endeavour to be entered into lightly; reading the Bible in a year takes a serious commitment. Sure, if you can stick with it every single day, it's only three or four chapters, but if you miss a few days, you get behind very quickly.
So, if we are going to read the Bible in a year, we should do so with intention, knowing both the benefits and challenges of doing so.
Here are three of the reasons I think we should all read through the Bible from cover to cover periodically.
Reading through the whole Bible from cover to cover in a relatively short period of time reminds us of the bigger pictures of scripture. It helps to put things in context and make connections between the different sections.
It helps us identify areas that we'd like to come back to for further, more in-depth study.
It helps us build a habit of reading the Word daily.
The Biggest Challenge of Reading the Bible in One Year
For some people (especially kids or beginning Bible studiers), the most difficult part may simply be building the habit of reading three or four chapters every single day. If you're not used to doing so, sustaining the practice beyond the first few weeks may prove challenging.
This wasn't what I struggled with the most though.
For me, the biggest challenge of following my Bible reading plan was the constant need to move forward. There were so many passages—especially in the poetry books and the epistles—where I just wanted to stop and hang out for a while. A verse or a chapter would intrigue, inspire, or confuse me and I'd long to sit and ponder it for a day or a week, or maybe longer, but there was no time. I just had to keep going if I was going to get through the whole Bible reading plan within the year.
A Slower-Paced Bible Study Method
Over the summer, I "met" a woman online who had developed a Bible study method called the Jesus Meet Me method. This woman—Amy Hornbuckle of Take a Walk Ministries—introduced me to a way of studying the Bible that quenched my desire to go deeper. With her method, you really dig into a chapter or a small set of verses, defining unknown words, uncovering the history and background of the passage, comparing versions and cross-references and reflecting on where Jesus has met you in the passage or in your life. 
I purchased copies of her workbook for myself and my kids and we started using it in our daily Bible study time (which is separate from our individual Bible challenge time). I loved how digging deep into the passages brought our understanding of them to a totally different level. I got so much more out of reading the Bible in this way than I did racing through it. 
Weekly Bible Reading Plans
If you're looking for something you can download and print right now, I've created a series of Bible reading plans just for you.
These are weekly Bible reading plans, based on how much time you want to spend with each chapter. If you're feeling like me, you may want to focus on one chapter per week, studying it deeply using the Jesus Meet Me method or a similar study approach. If so, you will enjoy one of the lighter plans.
I've also developed plans for 2-3 chapters per week, 4-6 chapters per week, and the whole Bible in one year (22-23 chapters per week).
You can view and download each plan individually below or scroll down and download all six plans as a PDF file.
Whichever plan and method you use, I hope that you have an enlightening year in the Word. 
One Chapter a Week: NT History and Selected Epistles
If you want to go deeper and study one chapter per week, you can get through the following books in a year:
Acts
Romans
Philippians
Colossians
It should be noted that although this is a lighter plan, the intention is not that you would read the chapter once in the week and then set down your Bible for seven days. With a plan like this, the goal is depth, and you would want to re-read the chapter several times throughout the week.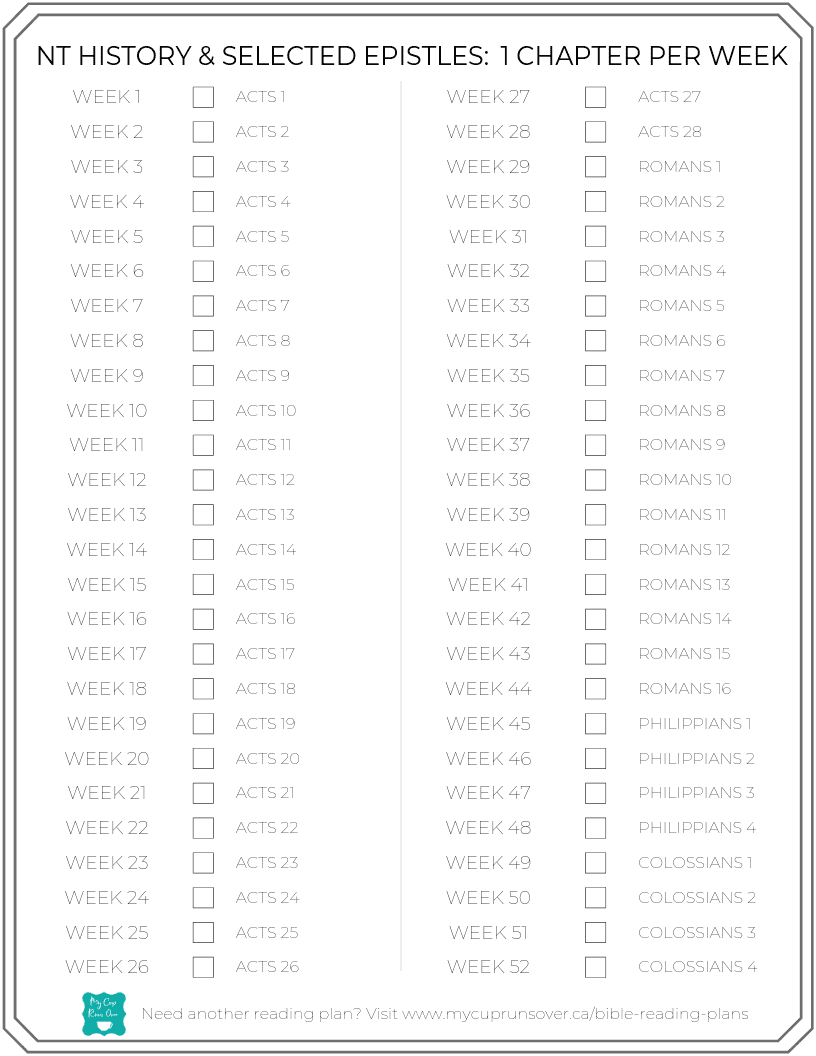 Click to enlarge
One to Two Chapters per Week: The Gospels in a Year
Here's another plan that allows you to dwell a bit longer on each chapter. By reading one to two chapters a week, you can move through one of the four gospels each season: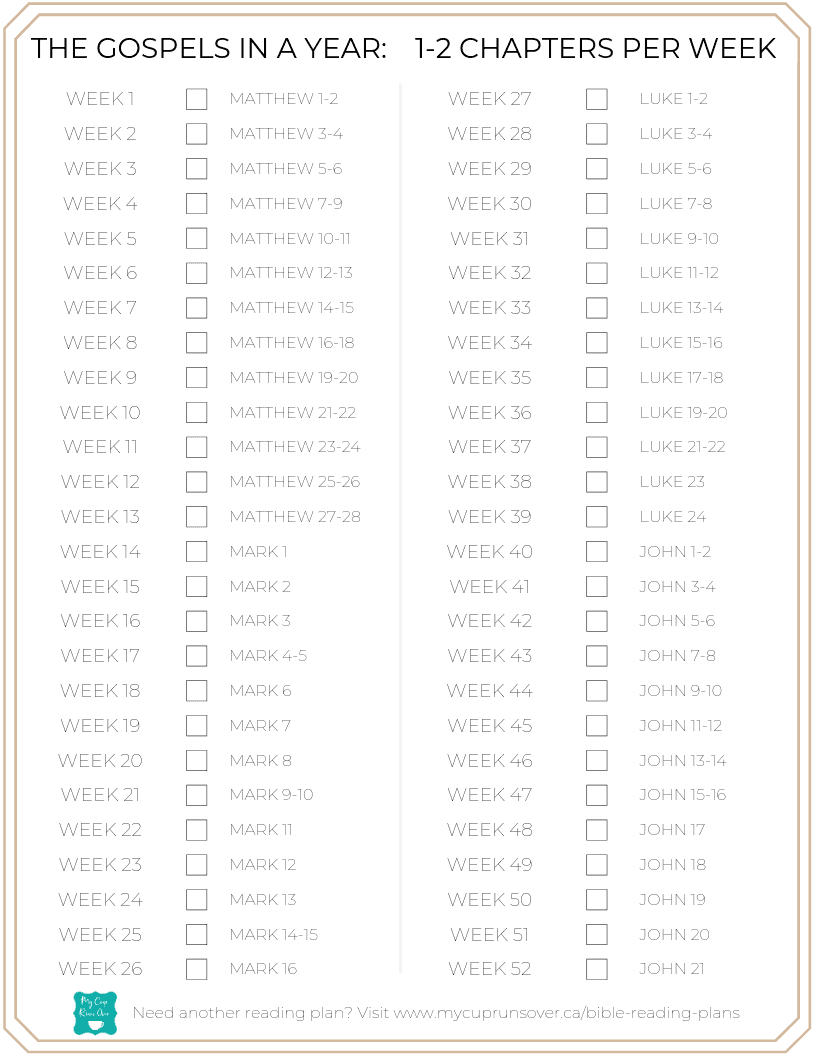 Click to enlarge
Three to Four Chapters per Week: Major Prophets
This plan allows for 1-2 days for each chapter. In one year, you will read:
Isaiah
Jeremiah
Lamentations
Ezekiel
Daniel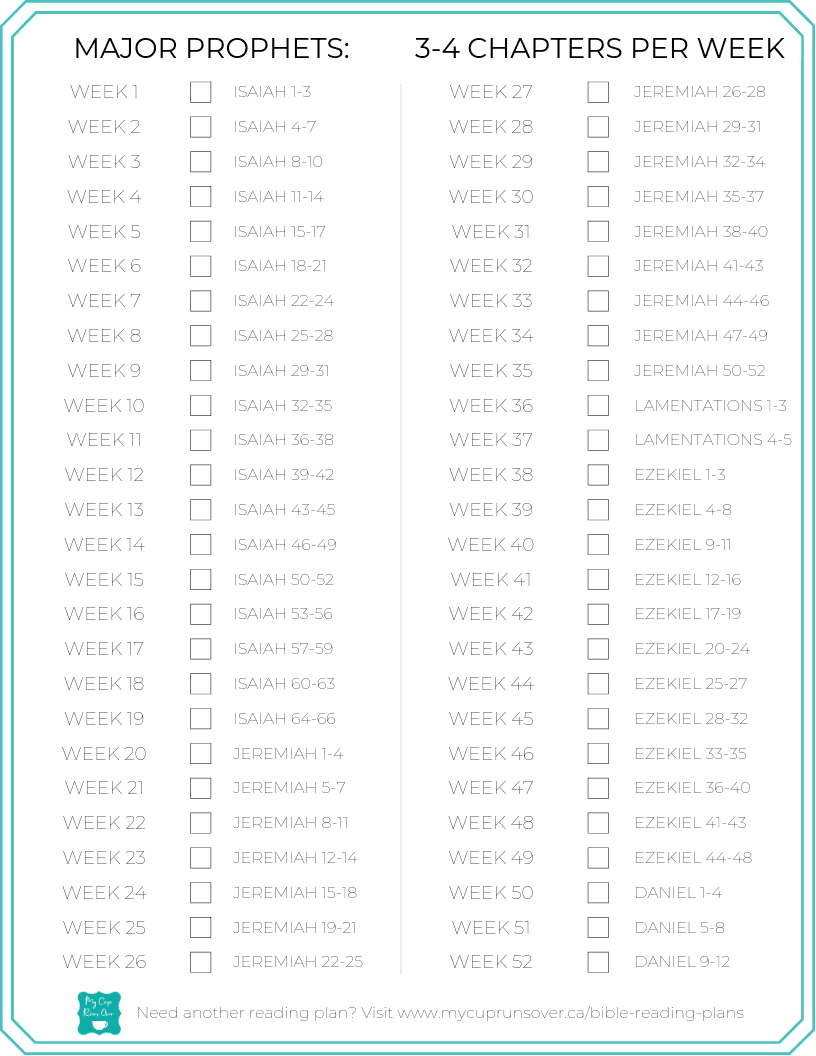 Click to enlarge
Four to Six Chapters per Week: Books of Wisdom and Poetry
If you love spending time in the Psalms, this plan is perfect for you. In one year, you'll cover:
Job
Psalms
Proverbs
Ecclesiastes
Song of Solomon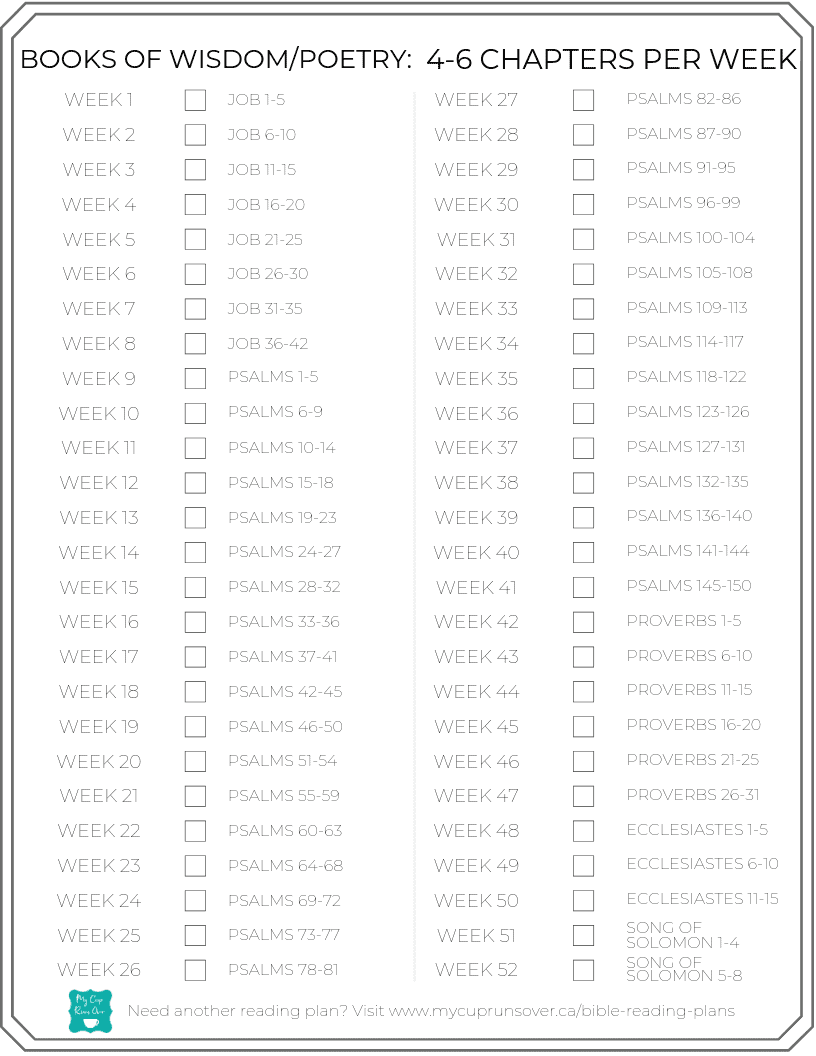 Click to enlarge
22-23 Chapters per Week: Whole Bible
If you do want to read through the whole Bible in a year, I have two Bible reading plans for you. The first one will take you through the whole Bible from cover to cover. The second one will take you through some Old Testament, a bit of New Testament, and a few psalms each week.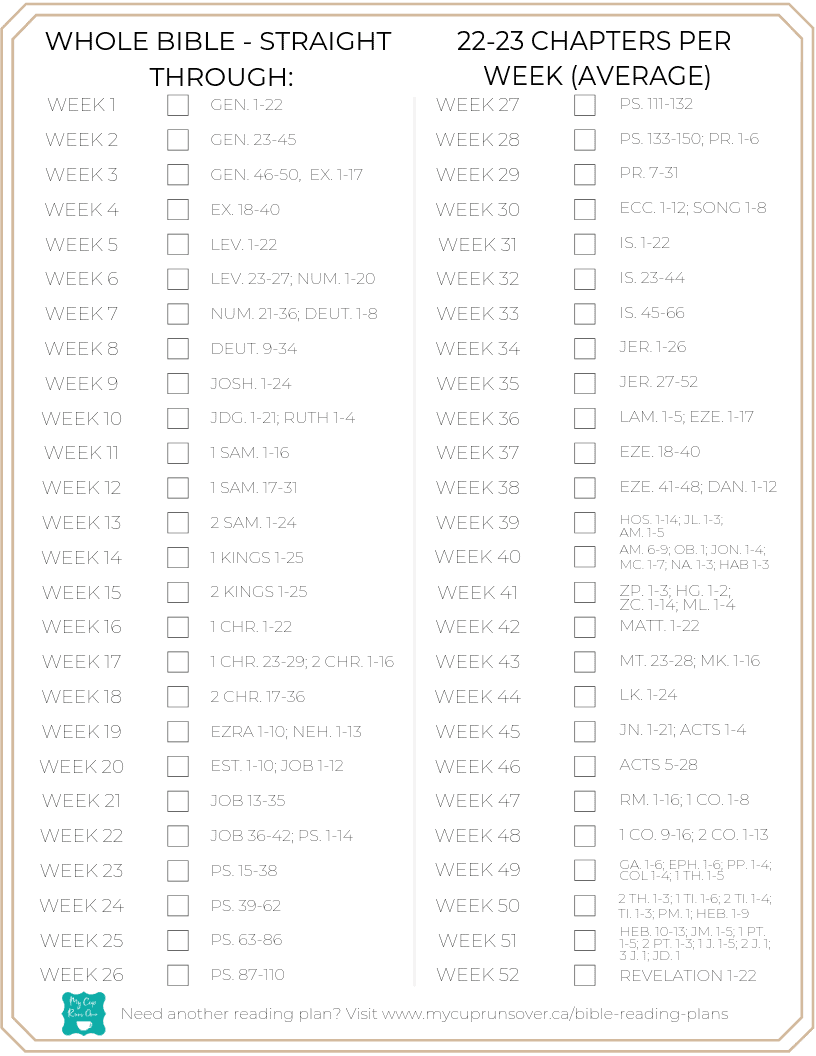 Click to enlarge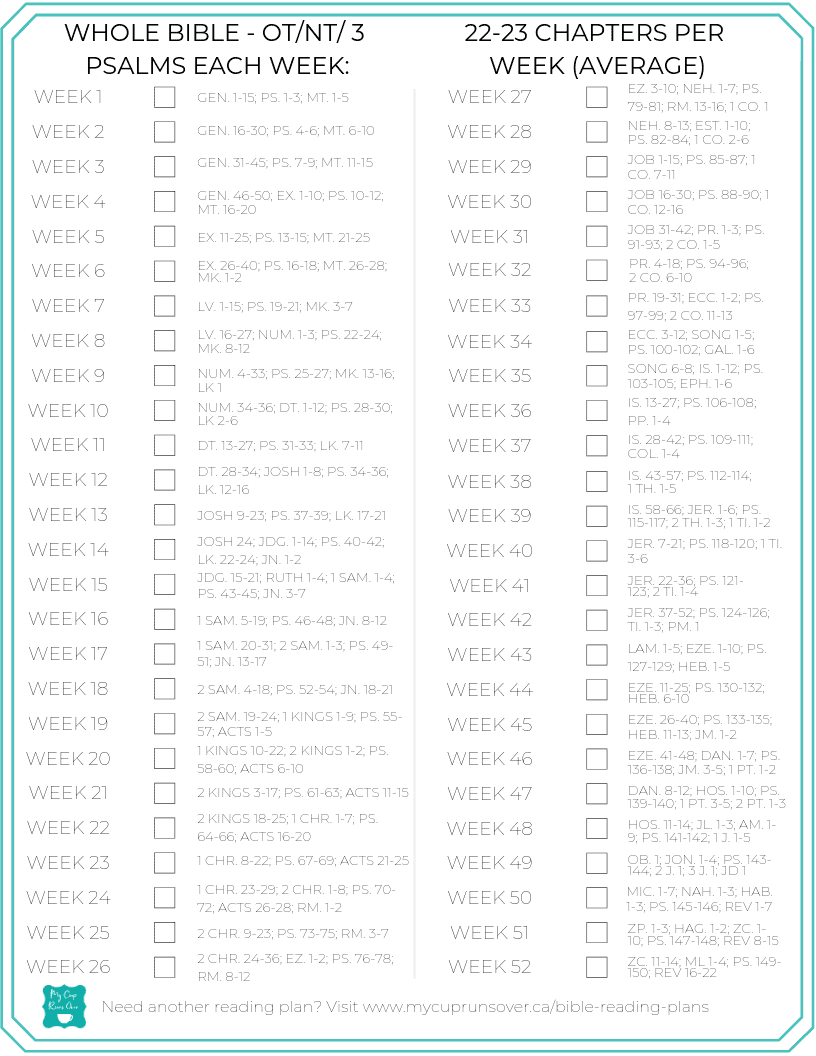 Click to enlarge
Download all 6 Bible Reading Plans
Download all six weekly Bible reading plans here and get started today.